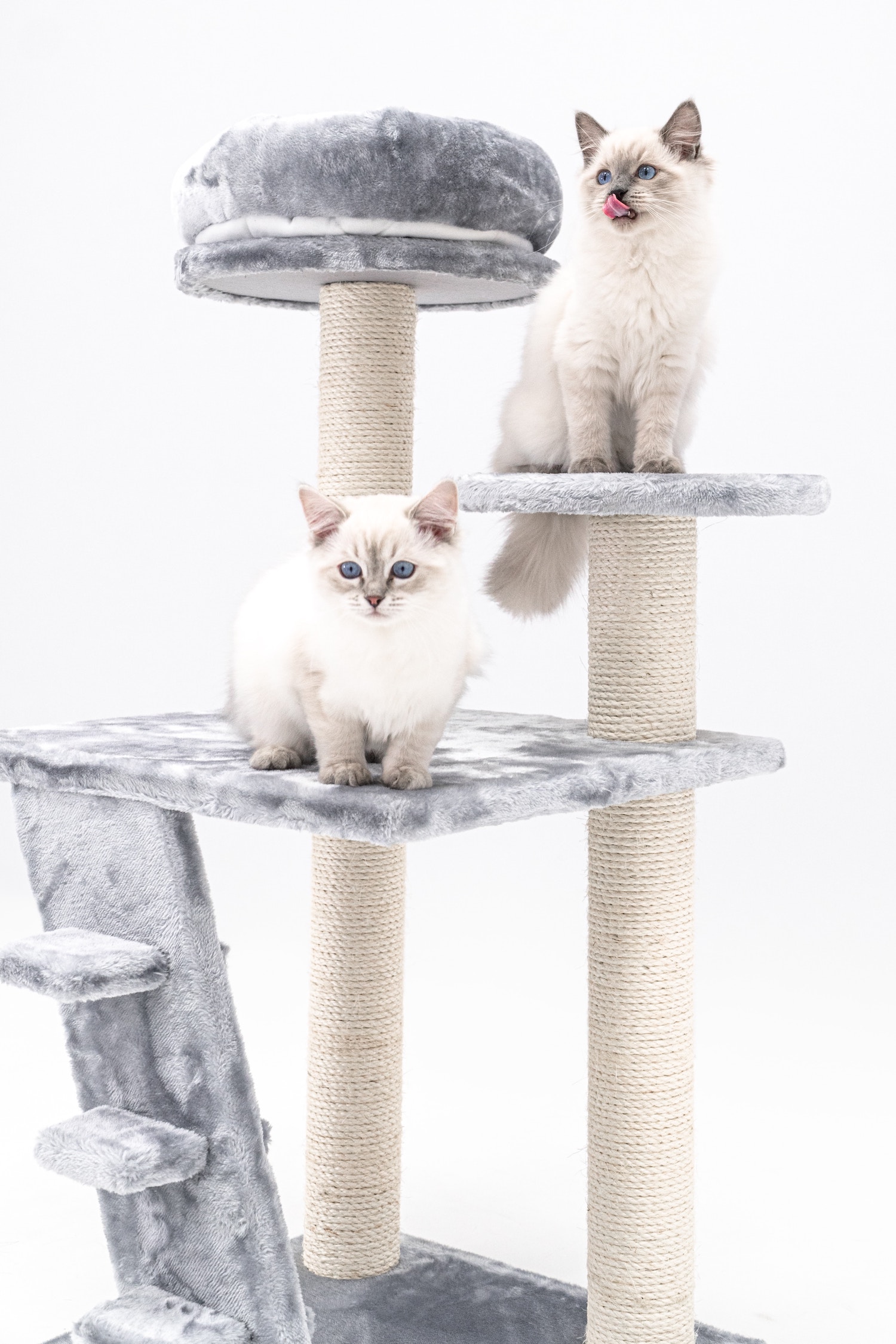 Q:- What type of materials are used in KittyGallery.com's kitty furniture?
At KittyGallery.com, we use only the highest quality, pet-safe materials to create our kitty furniture. Our products are constructed with durable, non-toxic woods, and plush, easy-to-clean fabrics that are perfect for your feline friends. The scratching posts are made with natural sisal, known for its appealing texture and durability. We carefully select materials that are both comfortable for your cat and designed to last.
Q:- How can I determine the right size furniture for my cat?
We offer a range of furniture sizes to accommodate kitties of all breeds and ages. To choose the best fit, consider your cat's size and activity level. Our product descriptions on KittyGallery.com provide dimensions and weight limits for each piece of furniture. If you have a kitten, consider a size that will be appropriate for their full-grown size. If you're still unsure, our customer service team is always here to help!
Q:- Is the kitty furniture easy to assemble?
Yes, we design our kitty furniture with ease of assembly in mind. Each product comes with clear, step-by-step instructions and all necessary tools. We aim to make the assembly process straightforward so that your cat can start enjoying their new space as soon as possible. If you have any trouble, our customer service team is available to assist you.
Q:- How do I maintain and clean the furniture?
Maintaining your KittyGallery.com furniture is simple. For most of our furniture, a light vacuuming or lint roller will remove cat hair and dander. For any stains or spills, use a mild soap solution and a damp cloth for spot cleaning. We also design many of our cushion covers to be removable and machine washable for added convenience. For specific care instructions, please refer to the care label on your kitty furniture.
Q:- Can I request custom-made kitty furniture to match my home decor?
We understand that our customers have unique styles, and we are delighted to accommodate custom requests when possible. If you have a particular color scheme or design in mind, please contact our customer service team to discuss your ideas, and we'll do our best to create a piece of kitty furniture that seamlessly blends with your home decor.
Q:- What is the return policy if my cat doesn't take to the furniture?
We want both you and your cat to love your purchase from KittyGallery.com. If your cat is not fully satisfied with their new furniture, we accept returns within 30 days of receipt. The item must be in its original condition and packaging. Please visit our return policy section on our website for more details on how to process a return.
Get a massive 20% Discount
Unlock 20% Savings: Shop Smart, Save Big!